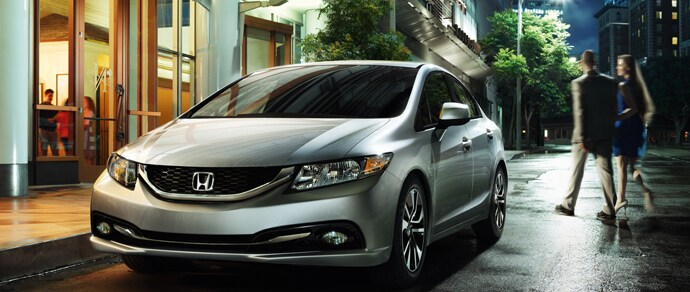 For many, the search for Civic perfection begins and ends here: the Civic Sedan.
What's New?
The Civic Sedan has a bold new look for 2013. From its sleek front grille to its redesigned taillights, the 4-door Civic is truly a sight to behold.
4-Door Fun
If you've got groceries, cargo or friends along for the ride, you'll love the convenience of the Civic Sedan.
Takes a Back Seat to No One
With touches like 16" alloy wheels on EX and above, there's no reason your sedan should be anything less than stylish.

The Civic Sedan's i-MID, or intelligent Multi-Information Display, puts
personalization right at your fingertips.
Photos
Nothing says "me" like the wallpaper on your computer. Now you can do the same in your Civic. Load an
image of your pet, your mom, or even one of yourself. We won't judge.
Info
The i-MID is your go-to for every important tidbit of drive-related information. See current song playing,
current mpg, text messages[1] and even turn-by-turn directions if you opt for the available navigation
system[2].
Bluetooth® Capability
The list of advanced i-MID functions is a long one, including Bluetooth® HandsFreeLink®[3] for hands-free
phone calls. The system pairs easily with your compatible phone, and is also ready for Bluetooth® Audio,
Crystal Clear
Not only is the i-MID helpful and customizable, but it's also pretty, thanks to its high-resolution color TFT
LCD display?the same kind of technology found on LCD monitors and the latest smartphones.
Look Behind You
New for 2013, every Civic features a rearview camera with guidelines. Civic models with navigation come
with a multi-angle rearview camera with guidelines. Both cameras make it incredibly easy to get in and out
of tight spaces.
Pandora® Connectivity
With the i-MID and Pandora® internet radio compatibility[4], you're riding with your own personal DJ.
iPhone®[5] users can connect their devices via the USB Audio Interface[6] and stream Pandora through the
Civic's audio system.

Eco Assist™
One thing every Civic driver has in common? The need to maximize efficiency. Honda's Eco Assist™ feature helps you accomplish the task with helpful blue and green "coaching bars" on either side of the speedometer. Stay in the green, and you can go farther on a full tank of gas.
ECON Button
Just push the big green button. Could there be a quicker and easier way to save fuel? In ECON mode, the Civic's engine and other energy-consuming systems are automatically configured to operate more efficiently. Need more zip? Push it again to go back to normal mode.