Our Facilitator, Michelle Villanueva was awarded "Outstanding Women"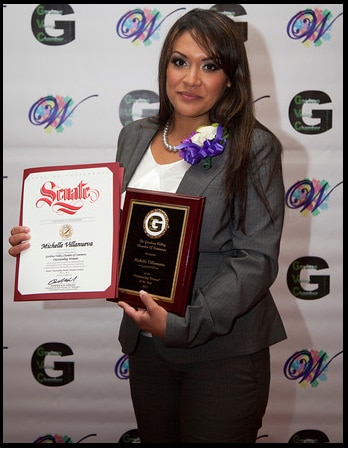 by the Gardena Valley Chamber of Commerce. We couldn't be more proud of her.
She is an active, renowned community member from Norwalk, CA. She has 15 years of automotive experience at various levels. She is a strong advocate for community service and is currently in charge of DCH Gardena Hondas invovement in Student Against Destructive Decisons (SADD) at Leuzinger and Gardena High School. Michelle is committed to helping young people stay safe by raising awareness through education , action, and advocacy.
When Gardena Chamber of Commerce asked us to co-sponsor "Operation Backpack" to collect school supplies for the students at Gardena High and Perry Middle Schools, Michelle did not hesitate to take the responsibility. She was succeeded in setting up for over 500 students and their families so that they were prepared to start school and be ready for success. Michelle has been the coordinator for all of our community events here at DCH Gardena Honda.
Michelle is dedicated to educating teens on how to make smart decisions and safe driving while also providing parents with tools they need to set the standards with their teenage drivers. Involving herself and improving the community has become a priority in her life.She believes every young person needs strong productive role models to help them grow. Michelle beleives every adult can make a difference in a young persons life.
Congratulations Michelle!