Engine: 3.5L V-6 cyl, Transmission: 6-Speed Automatic, Mileage: 32,736 miles, Exterior Color: Modern Steel, Interior Color: Gray, Doors: 4 door, Model: Odyssey, Year: 2015, Trim: LX, Bodystyle: Van, Make: Honda
View Details

Honda Odyssey
Exterior Features
Cargo Access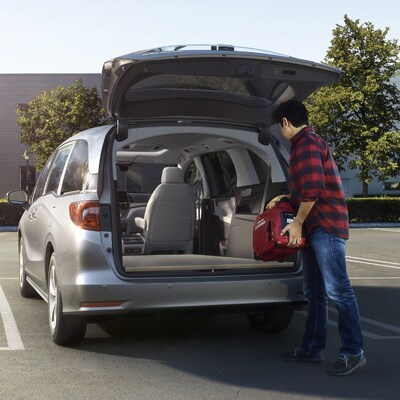 Never Set your Bags Down Again
Typical grocery loading requires putting bags down and having items tumble out of the top. Avoid this frustrating norm by never putting your bags down in the first place. The available hands-free access power tailgate allows for this, with a foot wave at the bottom bumper opening things up.
Power Sliding Doors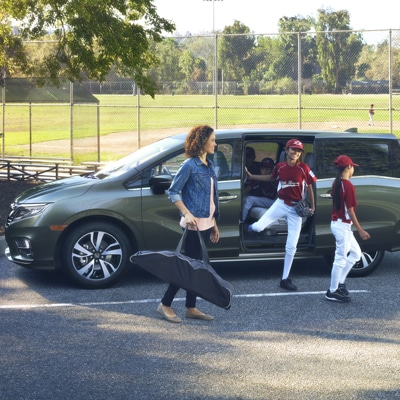 Quick Entry for Passengers and Loading
A multi-row minivan requires some extra accommodations to make the loading process easier. Make things easier for both guests and putting cargo gear in with power sliding doors, which open right up so that your commuting day can keep on moving.
Powertrain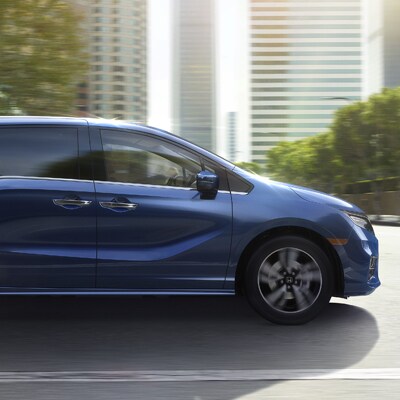 Dynamic Commuting
Need to quickly switch lanes or pick up speed in traffic? A powerful engine will keep you well equipped for these family commuting moments. The 2018 Honda Odyssey has you covered, featuring a 3.5-liter V6 engine that can create 280 horsepower.

Honda Odyssey Interior Features
Seat Adjustments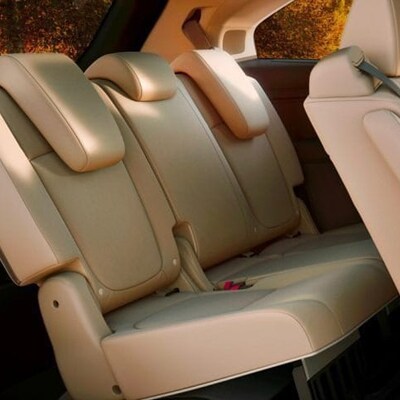 Magic Seats Offer Optimal Adjustments
Second row Magic Seats in the 2018 Honda Odyssey serve a purpose for both passenger and cargo space. These seats can be configured in multiple ways, sliding over to gain access to the third row and folding down for the bigger cargo haul you plan on transporting. Whether you have errands to run or passengers to drop off, you can always make things work with these built-in adjustments.
HondaVAC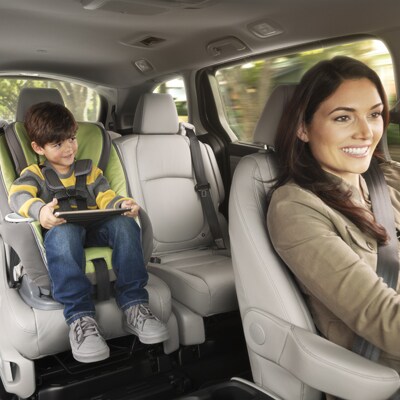 A Cleaner Cabin Experience
Does driving in a cleaner vehicle improve your mood and outlook on the ride itself? For many, clutter and dirt can have a very negative influence on this attitude. Keep your 2018 Honda Odyssey cabin spotless with the built-in available HondaVAC, clearing up all the dirt and debris collected along the way
DCH Gardena Honda: The Dream Dealership Experience all Shoppers Deserve
Here at DCH Gardena Honda, we want what is best for our customers. You are in the market for a new daily driver that will make you happy on your commutes for a long time to come, and you deserve a fulfilling dealership experience in your quest to discover that dream vehicle. When you walk through our showroom doors here in Gardena, CA, we are confident that is exactly the type of experience you will get to take in, as we have thoughtfully covered every moment that you will spend interacting with our team.
New Honda Models Offer Dependability and a Pre-Owned Lineup that Extends Value
Our new Honda lineup consists of popular vehicles that are durable, dependable and exactly what you are looking for with your future of driving. Combinations of reliable safety designs, integrated technology and capable powertrains make this type of positive outlook possible, with a pre-owned lineup of varying makes and models offering both diversity and value to shoppers interested in sticking to a tighter budget during research.
Finance your Next Vehicle with the Support of Professionals offering Veteran Experience
Our Honda financing experts have worked with a variety of prospective drivers on auto loans and lease agreements right here in our showroom. This should give you confidence when deciding whether to buy or lease a vehicle here at our dealership, as our team works transparently to make a sometimes complex part of the car buying experience simplified and easy to process. We are here to help you arrive at a financing plans that fits your lifestyle, budget and preferences, with all your questions addressed.
Readily Available Maintenance and Repair with Factory-Trained Service Technicians
When your vehicle is in rough shape, or when a routine maintenance reminder pops up on your calendar, you can always keep things in house with our professional team of certified technicians. Here in our Gardena service center, we cover the basics of oil changes, tire rotations and much more, even handling more comprehensive repair work with genuine auto parts provided through our parts center. Maintaining your pride about the condition of your vehicle is very much a possibility with these experts helping with upkeep.
Visit our Conveniently Located Gardena, CA Dealership Today to Get Started
With convenient hours and an easy to reach location in Gardena, CA, we welcome you here to our showroom today to get started on your next car buying experience! Our team can be reached over the phone, through our website or live in person, and we look forward to hearing from you in the near future.